Description
FINALLY! - Say Goodbye to Shaving, Waxing, and Expensive IPL Clinic Treatments FOREVER!!!
This Permanent IPL Laser Hair Remover will Save You Time, Money and a lot of headaches all within the comfort of your home! 
How it works: The Hair Remover uses laser technology that emits rapid light pulses. The pulse works under the skin's surface to target hairs at the root to inhibit their growth.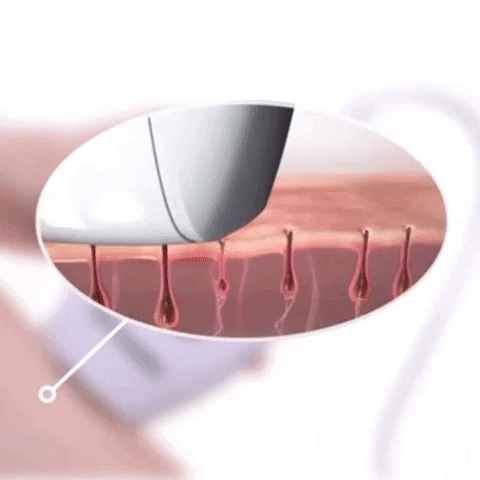 NEVER SHAVE AGAIN!
Tired of shaving or paying for expensive treatments at laser hair removal clinics? 

✅ REMOVE HAIR RE-GROWTH PERMANENTLY
✅ 100% SAFE & PAIN-FREE 
✅ EASY TO USE: AS SIMPLE AS PLUG & GO
✅ DON'T PAY FOR EXPENSIVE TREATMENTS ANYMORE
✅ SEE RESULTS IN A MATTER OF A FEW SESSIONS 
 Suitable skin tones
Suitable hair colors
How to use 
Step 1
Remove excess hair by shaving, epilating or waxing the area before the first treatment.
Step 2
select the correct intensity level.
Step 3
Turn the unit on and press it to your skin. Wait for the ready to the flashlight to turn on and press the flash button.
Is it suitable for me? 
As with any other IPL treatment, It requires pigment in the hair to attract the light. After the light is attracted the hair roots heat up and stimulated not to grow back. In a similar fashion, a low level of pigment in the skin is needed so that the skin will not attract the light. Thus, It works on (naturally) dark blonde, brown and black hair and on skin tones ranging from very white to dark brown and does not work on red, light-blonde and white/grey hair, or on very dark skin.*
Are there any long term effects of IPL usage? Is it safe for my skin?
Professional IPL treatments already exist for 25 years and researches haven't shown the appearance of skin cancer or fertility issues. No serious side effects or damage from long-term use have been reported. IPL technology is derived from the technology used in professional salons. We have adapted the technology for safe and effective use at home. It has been developed in conjunction with leading dermatologists and tested with over 2000 women. It fulfills all the safety regulations for home-use appliances. As with any skincare product, it is important to use the appliance in accordance with the user manual. 

BABYAMY safety system ensures that light flashing is only possible if the attachment is in full contact with the skin. The integrated UV filter ensures that the light only affects the hair and not the skin. We recommend to use BABYAMY in a well-lit room, to reduce the perceived brightness of the flash. Side effects and complications, while possible, are very unlikely as long as you use BABYAMY according to the instructions and precautions included in the user manual.
Is BABYAMY safe to use on the face?
By checking your skin type, you can choose the specific setting that will ensure effective yet gentle treatment on your face. As the area around your eyes is very sensitive, we recommend using BABYAMY only below the cheekbones in order to avoid the risk of eye damage. To achieve optimal results on the cheeks, upper lip and chin, stand in front of a mirror to get a good view of the area to be treated and the 'ready to flash' light. 
Product Specifications 
Lamp: xenon quartz tube 
Light source: pulsed light 
Focus size: 33mm * 10mm 
Wavelength: 470nm ~ 1100nm 
Lighting life: 400000 times 
Adapter Specifications: AC100V ~ 240V @ 12V DC 3A
Power:36W 
Weight: 180g 
Operating temperature range: 5 ° ~ 30 ° 
Working humidity range: relative humidity 30% to 60% 
  
Scope of application: 
Lips, Armpit hair, Limbs, Forehead hairline and others affect the beautiful hair; 
Painless hair removal for black hair and dark hair 
 
Single flash +   Continuous flash (2 flash modes)
Single flash: Applicable to lip hair/armpit bikini and other small area hair removal
Continuous flash: Applicable to large thighs/arms and other hair removals
Continuous flash operation method: Hold down the flash button and do not let go.
How often use it:
A hair removal cycle is using 6-12 times.
1. Using one time every 2 weeks from first to sixth treatment.
2. Using one time every 4 weeks after the sixth treatment.
3. If you find it comes into new hair after 6-12 treatment, you can switch to maintenance treatment. Such as every 2 or 3 months, depends on individual hair growth rhythm.